Hello,
This week-end was the 25th anniversary of the fall of theBerlin wall.
Most of us may remember this day as if it was yesterday - a major
event while people took their own destinity, while an opportunity was created - a breach in the system, in the law, and oppression enforcing.
Over one million people demonstrated in the streets against the system in East berlin. That was about 10% of the german population at the time, reunited in the streets - angry! It ended up with the destroying of the wall.
A great moment in history!
as a reminder, this is how it happened- suddenly - one november night
[video=youtube_share;MM2qq5J5A1s]http://youtu.be/MM2qq5J5A1s[/video]
For the celebrations, they built a wall of lights at the exact same place the brick wall was built - it's a message of hope for people around the world about freedom.
[video=youtube_share;3YLLiONzmNg]http://youtu.be/3YLLiONzmNg[/video]
A site to visit:
Berlin site
The wall of shame - then
The wall of hope - yesterday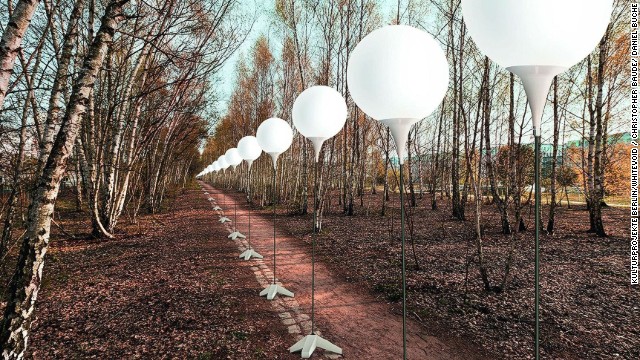 I remember 2 special world events, that occured, when I was a $cientologist - both had skaken me deeply!
1) was the fall of Berlin wall -
I was at the org when the sup told us about it. People were so excited and couldn't even believe it - but we weren't allow to turn on the TV and watch it live. No No No -
there was a more important game we were playing that nigh, to save the entire planet and galaxy
So we watched at home, it late at night.
But you can bet, they recycled the Berlin wall event at the next $cientology event to emphasis there was hope for mankind freedom, especially since we are the one to make it happen (we are the authority)

2) the second event was the Iraq attack by the americans
I was schocked - but was with an OT7 at the moment we catched it on the news. Thus I have been ensured that all Oatees would reunited in their secret meetings to postulate peace and handle the war with their powerfull spiritual OTenergy;
I am still waiting - my Oatee friend had gone to 8 and probably is still expecting that something happen with the Oatee power.
Fortunately, all people who read this thread, are either free of $cientology, or not trapped in a way they don't have any acces to the truth.
A great example was this memorable night the wall collapsed