The 13th of March until the 16th will be a celebration honoring the birthday of Scientology and Dianetics founder Lafayette "Ron" Hubbard. In keeping with honoring Mr Hubbard, I decided to do some Interweb research and come up with the most common of false claims Scientology or Scientologists will constantly blather on about Mr. Hubbard. Most of the documentation has been found through the Freedom of Information Act ("FOIA") or I presume were gotten some other way through research. Remember, Hubbard is a God to them and only with dates, facts and proper time-lines can you even attempt to dispute them on Hubbard. They know this man inside/out and anyone preparing to TALK to them about him should also know the same things they know; plus the truth.
To quote Ronald Dewolfe (L Ron Hubbard Jr.) "99% of anything that has ever been written about my father or he has said about himself has been a work of pure fiction. I submit to you, that my father invented most, if not all of the events of his life and my most sincere hope is that some day, the truth behind my father will be well known to every man Scientologist and non-Scientologist alike."

Knowledge is power.
Information is free.
L Ron Hubbard's church is NOT.
Question: Was Hubbard blinded from injuries he received in World War II?
Answer: Certainly not, in fact he wasn't even in any combat engagements
Question: Was Hubbard an excellent leader and well respected in the U.S Military?
Answer: Absolutely not, his fitness report indicates that...
Question: Was Hubbard the YOUNGEST eagle scout in the U.S ever?
Answer: That depends on who you ask. The BoyScouts of America claim they do not keep records of such events but if they were, it seems Hubbard might be a likely candidate for it believe it or not.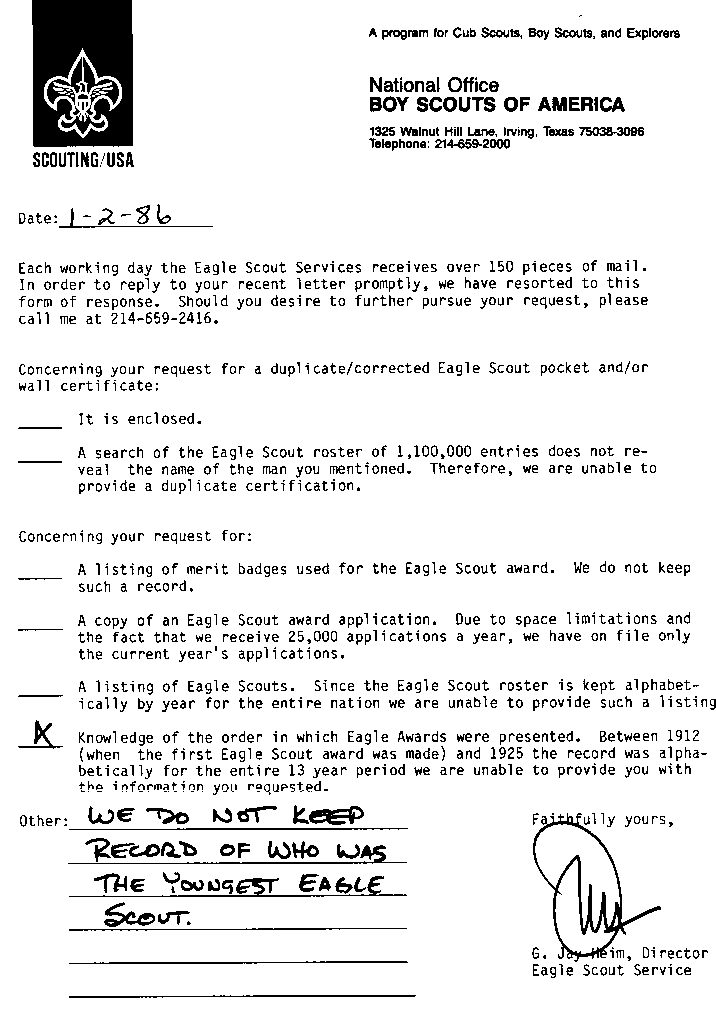 Question: Did Hubbard earn a LOAD of medals in his service years in the navy?
Answer: No, in fact his DD-214was forged. Below follows the REAL DD-214 and the one COS claims is his.


REAL
FAKE
Question: Was L Ron Hubbard interested in the science of the mind from an early age?
Answer: If his BoyScouts of America diary he maintained was any indicator then no.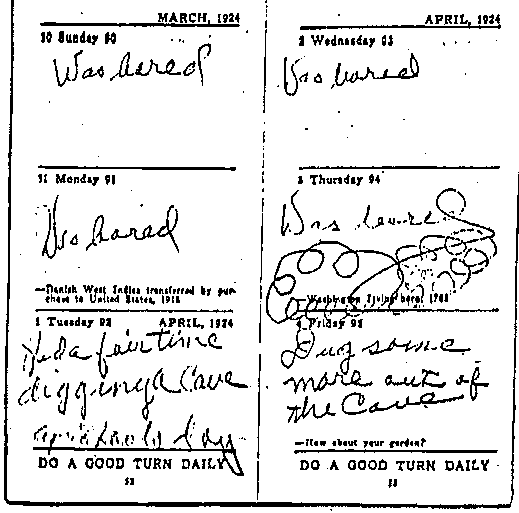 Question: Hubbard WAS in the hospital during his military service - maybe they lied about him being blind?
Answer: or the more likely answer is that he just had an ulcer as this document proves ...
Question: Was L Ron Hubbard a daredevil pilot and mystical navigator in the airways?
Answer: Although it should seem apparent to you - obviously not. In fact, he was never in the Air Force, he was denied. See image below for proof.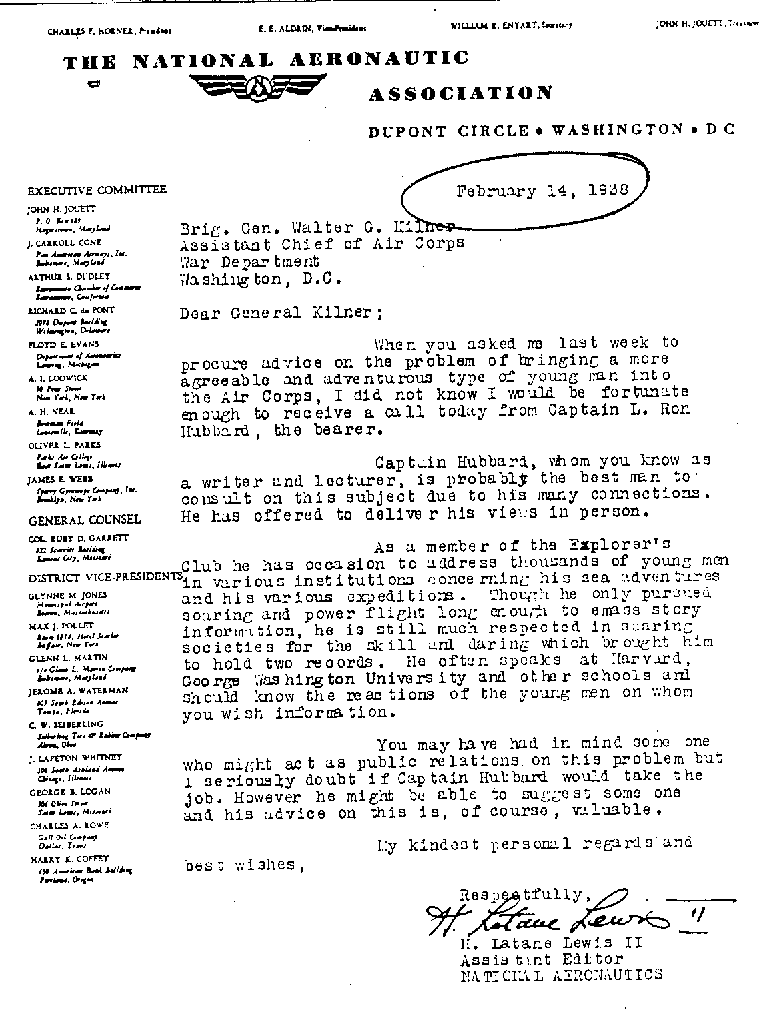 Question: Did L Ron Hubbard create the United States Air Force?
Answer: Hmmm - not really. The US Air Corp (what was used as the "Air Force" from 1920-1949) was basically the US Air Force without the same name. Hubbard wrote his congressman and the FBI numerous times to create a dedicated Air Force for the US Navy - that much is true. However, it should be recognized that at the time Hubbard wrote this letter, a bill was already before congress to create said division of the Navy.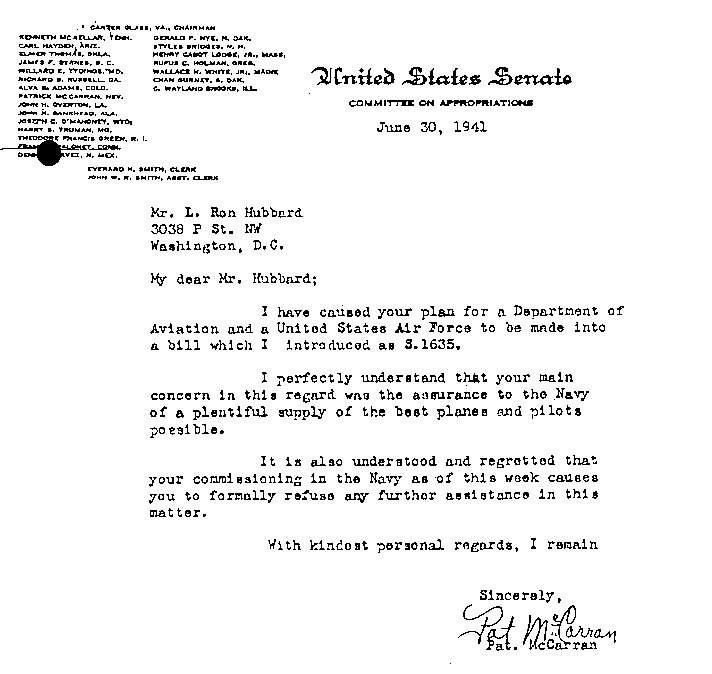 Question: OK, I see you claim Hubbard was not blinded in the US Navy - why do they keep claiming it then and do you have anymore proof to dispute it?
Answer: Glad you asked and yes I do read below for Ron Hubbard's physical upon leaving the US Navy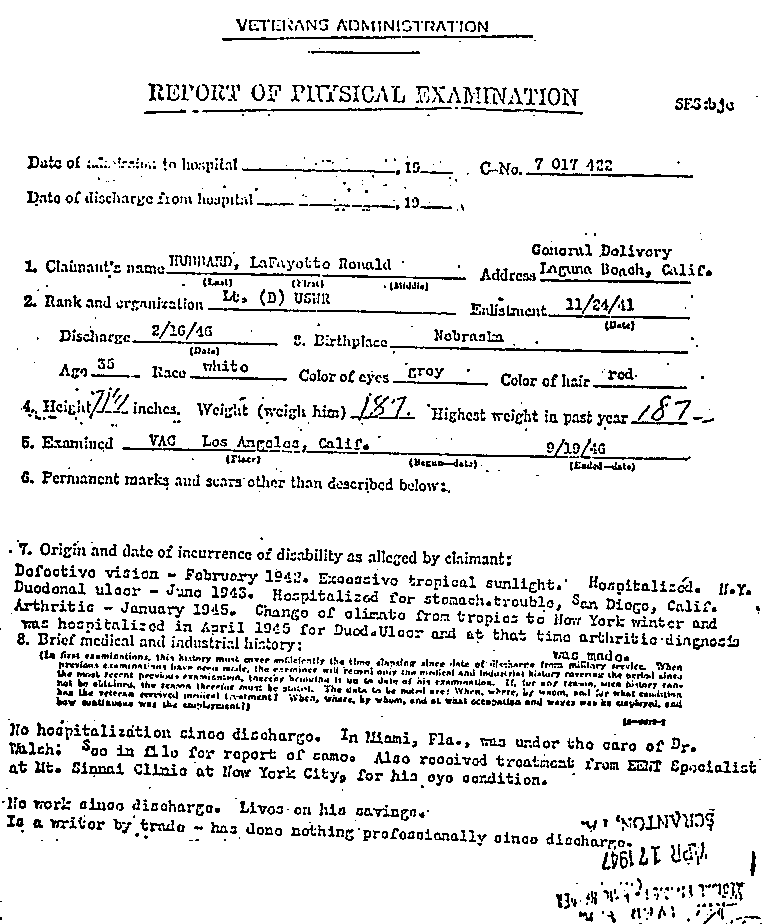 Question: Did Ron Hubbard REALLY kidnap his daughter?
Answer: Yes - here's the note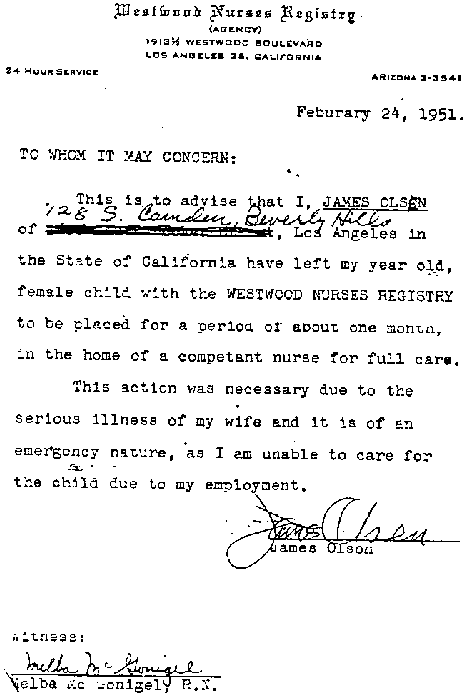 Here's the note Hubbard writes to blame a friend of his for the kidnapping (even though he approves!)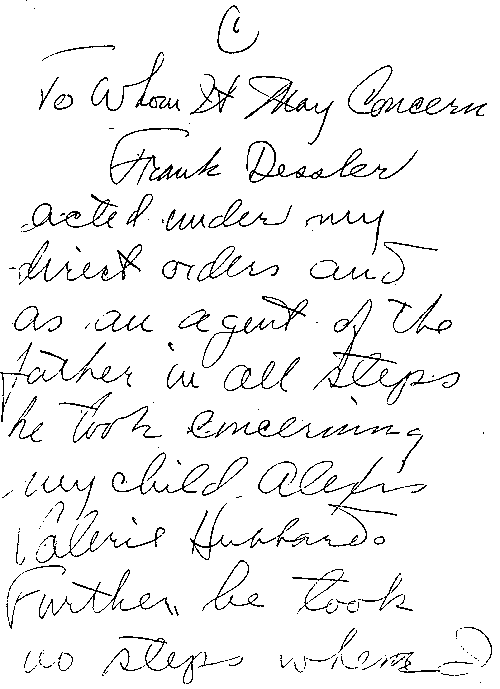 Question: Did L Ron Hubbard REALLY believe in a family environment/dynamic?
Answer: Probably but his real life doesn't support that claim. Here's a hand-written note of Hubbard's denouncing his own wife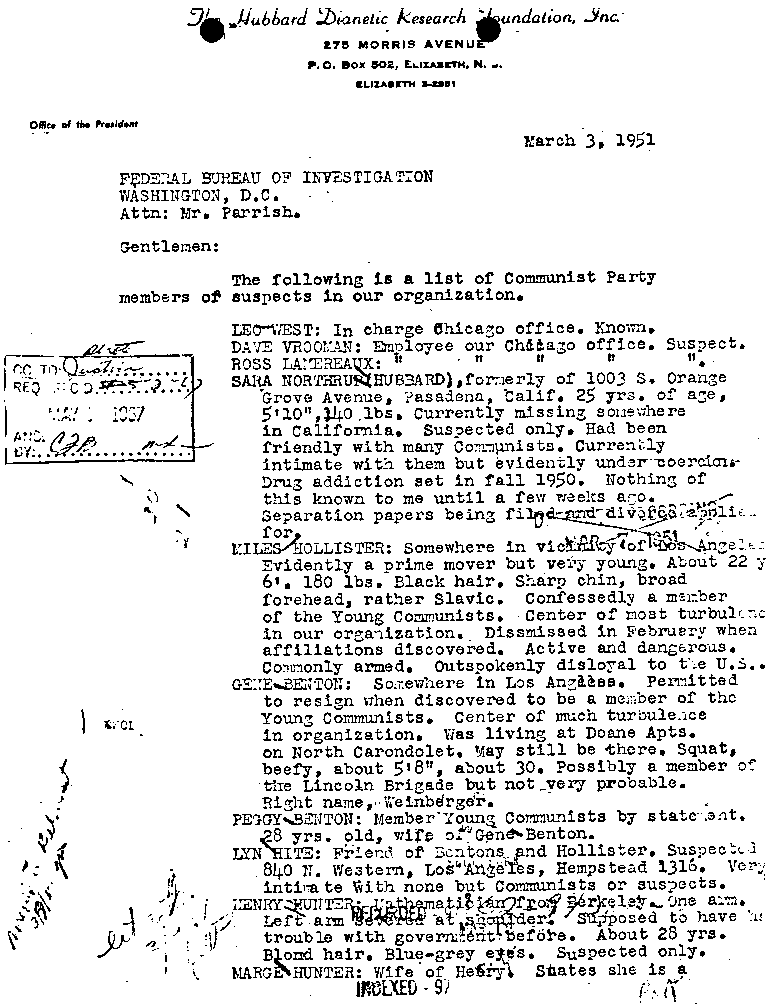 Question: Did L Ron Hubbard REALLY steal a Thompson Sub-Machinegun from the US Army?
Answer: Steal is a strong word, he "appropriated" it from the US Army and simply never returned it - they gave it to him with the impression he would give it back. Proof below
Question: Did the Australians consider Hubbard a military guru?
Answer: Absolutely not - in fact they found him unsatisfactory for ANY duties there
Question: Was Hubbard ever actually investigated by the FBI? He seems like a nice guy!
Answer: Absolutely - here's one of the more famous ones available on the intertubes...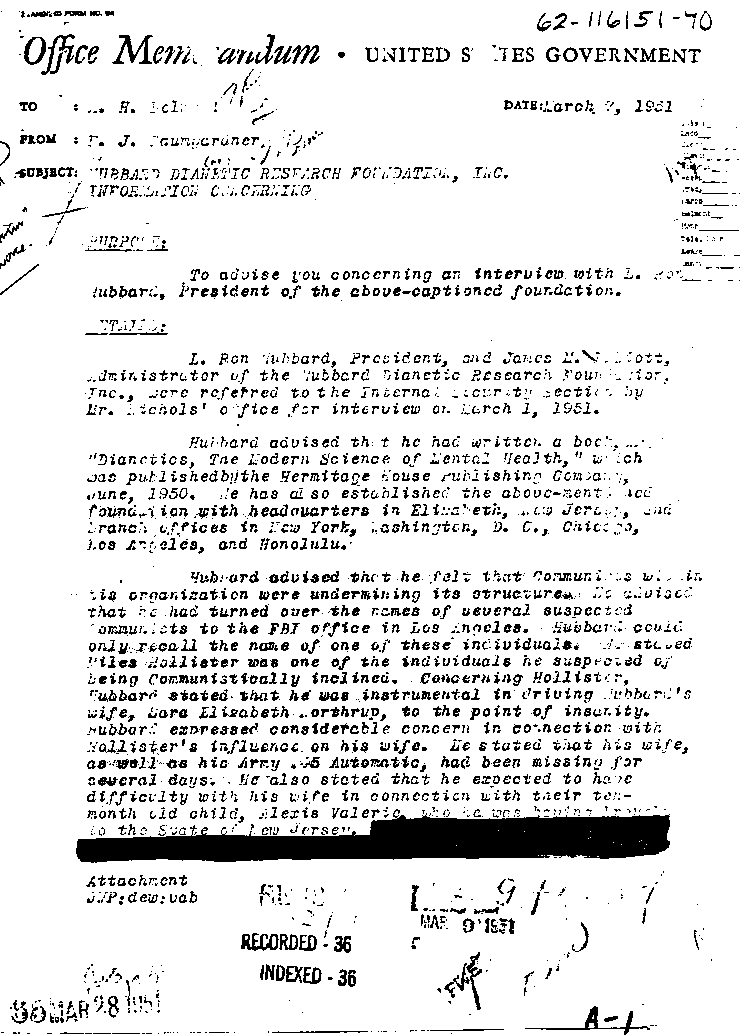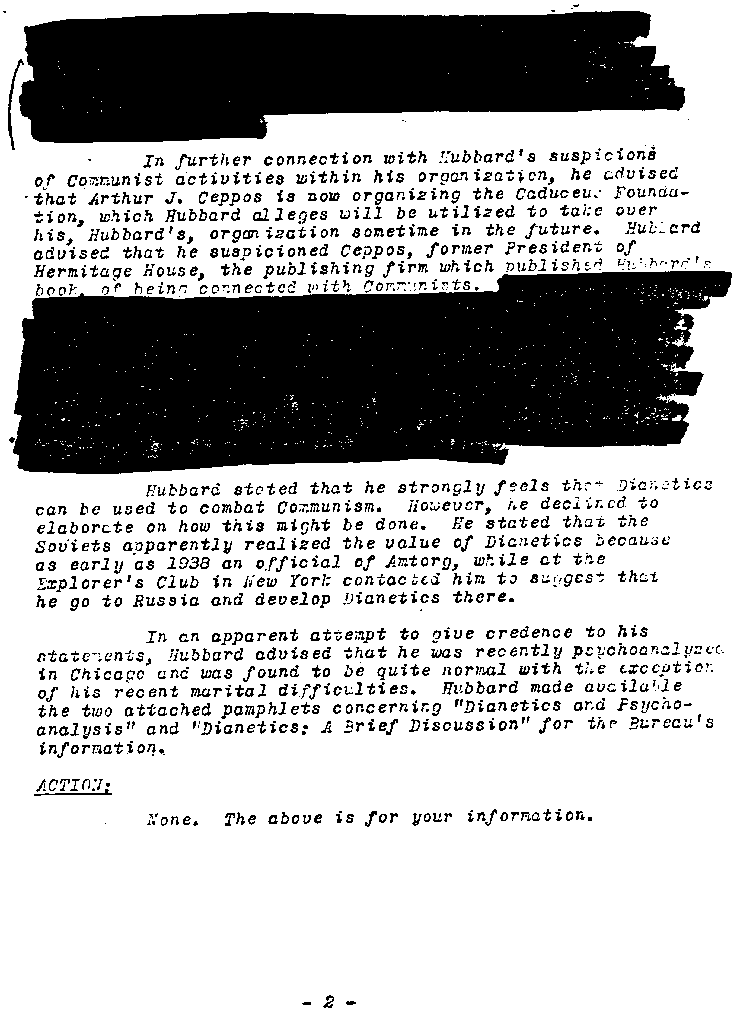 Question: What does the Church of Scientology say about Hubbard's Military Record?
Answer: A lot actually, below is THEIR version of events. Compare them against the evidence here from the military. Sources are in BOLD
1941
Commissioned before the outbreak of war & sent to the Philippines.

[Scientology magazine, vol. 1 issue 1, 1968]
Sent to Java but machine-gunned by invading Japanese.
Sailed to Australia on a raft.

[Testimony of Capt. Thomas Moulton,
Church of Scientology of California vs. Gerald Armstrong, 1984]
Ordered to Australia to coordinate intelligence activities in Dec 1941.

[L. Ron Hubbard - A Chronicle, 1991]
Posted to Australia to man "the only anti-aircraft battery in Australia."

["An interview granted to the Australian Press [by LRH] on January 10th 1963"]
1942
Flown home as first US returned casualty of World War II.

[Scientology magazine, vol. 1 issue 1, 1968]
Relieved by 15 officers of rank & rushed home to participate in Battle of the Atlantic.

[Mission into Time, 1973]
Posted to command a corvette in the North Atlantic.
Rose to command Anglo-US "Fourth British Squadron".

[Scientology magazine, vol. 1 issue 1, 1968]
Posted in March 1942 to a North Atlantic convoy escort vessel.

[L. Ron Hubbard - A Chronicle, 1991]
1943
Posted to North Pacific subchaser.

[L. Ron Hubbard - A Chronicle, 1991]
1944
Serves as instructor & chief navigation officer, and is
"selected to Princeton University's Military Government School" [sic]

[L. Ron Hubbard - A Chronicle, 1991]
Serves with amphibious forces (in Europe?)

[Flag Operations Liaison Office memo, 28 May 1974]
Crippled and blinded; confined to Oak Knoll Naval Hospital.

[Mission into Time, 1973]
1945

Awarded a total of 27 medals and palms.

[A Brief Biography of L. Ron Hubbard, c. 1960]

In 1974, Hubbard tried to claim 17 (!) medals from the USN, namely the following (but was refused):

1. Navy Commendation Medal with 1 Bronze Star.
2. Purple Heart.
3. Naval Reserve Medal.
4. Organized Marine Corps Reserve Medal.
5. (British) The 1939-45 War Medal.
6. (French) Medaille Commemorative Francaise 1939-45.
7. (Netherlands) Bronzen Kruis.
8. Philippine Defence with 3 Silver Stars.
9. American Defence Service Medal with 1 Bronze Star.
10. American Campaign Medal with 2 Bronze Stars.
11. Asiatic-Pacific Campaign Medal with 2 Bronze Stars.
12. European African Middle Eastern Campaign Medal (ETO Medal) with 1 Bronze Star.
13. WWII Victory Medal.
14. National Defence Medal.
15. Armed Forces Reserve Medal.
16. Navy Expert Rifleman.
17. Navy Expert Pistol Shot.

[Flag Operations Liaison Office memo, 28 May 1974]
Cures himself using early version of Dianetic therapy.

[Images of a Lifetime, 1996]
Appointed US Provost Marshal in Korea.

[A Report to Members of Parliament on Scientology, 1969]
1946
Discharged from the US Navy in February 1946.

[L. Ron Hubbard - A Chronicle, 1991]

Sources:

Videos

http://youtube.com/watch?v=ksDoVUTy1go
http://youtube.com/watch?v=Vj2iFFmqP4U
http://youtube.com/watch?v=9RLteeyMlgk
http://youtube.com/watch?v=hmziDR3f4PA
http://youtube.com/watch?v=mg0JaGc-ego
http://www.guba.com/watch/3000083216

Articles:

http://www.xs4all.nl/~kspaink/cos/warhero/contents.htm (Ron The War Hero "Book")
http://www.spaink.net/cos/LRH-bio/
http://www.antisectes.net/religion-essai-eng.htm
http://www.clambake.org/archive/books/bfm/bfmconte.htm
http://www.nots.org/
http://www.amazon.com/Bare-faced-Messiah-Russell-Miller/dp/0718127641
http://www.cs.cmu.edu/~dst/Library/Shelf/wakefield/us-02.html
http://home.snafu.de/tilman/j/origins6.html