Formerly Fooled - Finally Free
'
Myths obscure Trout Run's past
'
By Sylvia Carignan
[email protected]
|Frederick News Post ( aka FNP )
Posted: Saturday, May 30, 2015 3:30 pm
The ramps beside the stone steps were not built for President Franklin Delano Roosevelt's wheelchair.

No president ever slept in the retreat's stone-walled cabins.

The name "Trout Run" was not its first name and likely won't be its last.

The 40-acre site at 12929 Catoctin Hollow Road near Thurmont has been shrouded in more fiction than fact during the past few months it's spent in the spotlight.

While dozens clamor to weigh in on the County Council's decision regarding the site, and a handful of paid representatives work to quash rumors, one voice speaks from decades of experience.

"To me, that place was like my own home," said Louise Barry.[..] read on for more!
http://www.fredericknewspost.com/ne...cle_4fad9e69-6a00-5a69-82c1-87989f47aa52.html
The FNP created a video related to the article in the paper.
[video]https://youtu.be/U3DzoPAx8ZM[/video]
Ahh, the infamous OSA troll Sylvia Stanard, executive of DC Org on a recent visit to Trout Run reping Scientology. Photo courtesy of Frederick News Post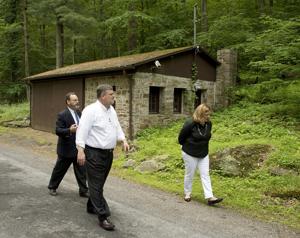 Terific letter in the FNP today:
Trout Run stonework isn't historic
Frederick News Post
Posted: Sunday, May 31, 2015 2:00 am
The whole premise of who, how, why and the desperate attempts at historical justification of the current owners of Trout Run property should concern everyone and warrant careful review. Many are already concerned and have raised issues about Scientology, Narconon and the intended drug rehab center the current owners wish to build at this site. However a very close review of the true history needs done before any decision is made.

Flashy exaggerations of the fact and all but smoke and mirrors have been used to get any approvals until this point. On Aug. 24, 2014, at a county historic preservation meeting, prior to any vote, false assertions were made that the stone buildings, stonework and improvements were completed and are original from the time of President Hoover's administration. The applicant further stated that the buildings and stonework were done in the late '20s to early '30s. This is not true and is very misleading.[..] read on for more...
http://www.fredericknewspost.com/op...cle_bc15ed4a-5fc1-54b6-b029-dadc4fce96d4.html