Con te partirò
Administrator
I've had a suggestion that we start a thread to show pictures of all the new buildings being purchased. If we get enough of them I'll turn it into a forum of it's own.
If you see an article or a picture of a new building please post it here yourself or email me and I'll post it for you.
I'll start with the new Melbourne Building.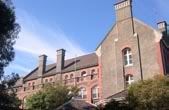 It's not a very big or good photo but it's all I have.
This was purchased around Xmas 2005 for $7 million, all of which was donated by the Melbourne field. The address is: 251 Mount Alexander Rd, Ascot Vale Victoria 3032