Have you ever noticed those symbols on every promo piece and product? Also if you were ever 'in' you will realise that these particular symbols, and they're highly noticeable at events too, are never explained beyond what scientologists believe they represent. That's because Scientology is an occult practice where the followers are the very people under the spell. They have to be because they are the very assets of the organisation because when correctly manipulated they manifest the intentions of those in charge and it's not David Miscavige. He is merely a figure head. This is how a Sorcerer works. He gets you do do what he wants. That's how the Vatican and Jesuits also work.

Example:Here's an early version of the book 8-8008 - how to increase your spiritual ability from zero to infinity. Here, 2nd to bottom image, you see the sunburst - symbol of the divine, the infinity sign, an archangel, the triangle in the circle which, according to Alice Bailey,

best symbolizes

the coming of the New Age, better known as the New World Order which even Hitler spoke of many times.

Hubbard also alludes to this regularly but does not fully explain because if he ever did there wouldn't be any church because everyone would have left once they realised what they were a part of. However, the whole point of this type of belief system IS deception. Because everything is backwards. And that goes right back to Crowley and Thelema and way beyond that, predating even Dr. John Dee who started MI5 and whose code name was 007 and that's not a number, it's a sigil. See? you've been conned again.

Also featured here are the colours purple, scarlet, (what Church likes those 2 colours?) blue, orange/amber and yellow or is it gold? On the Scientology logo below note the same colours and 4 lightning bolts. That's what they are.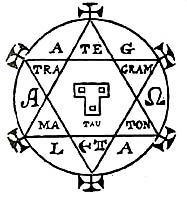 Scientology Logo Seal Of Solomon Unicursal Hexagram -- All binding spells.

The

interlocked double triangle symbol is just a different way of invoking the Seal of Solomon

which was the device used by Solomon to entrap the demons used to build the temple. IE slave labour. What better entity to work for you than a demon? Or in this case the mind controlled slave. What temple has just been built, or opened anyway, by slave labour in Clearwater?

Back to the book: This particular cover design is a clever statement of the law of Thelema of which Scientology is just another incarnation because they have exactly the same end as included in the book's title.
IE become cause. So far no one in scientology has achieved this because it is cleverly obscured. And I don't care if you've done OT8 or not. If the claim of OT8 were true we'd all be doing it. Wouldn't we?
And btw you'll be doing that again soon once you're been completely reverse-processed by running Objectives. You see? These technical changes are not 'discoveries', they are part of the plan for all scientologists because it is merely a spell which binds the follower over a lifetime. And Hubbard did not think it up. Again he was just the face of this New Age 'religion'. All of which are convincing you to do away with moralistic judgement and 'decide for yourself' what's right and wrong IE you are god of your own universe, also espoused by Crowley. In fact if you read works by them both you will notice 100's of parallels.
Crowley did the same exact thing with Wicca through Gerald Gardner, forming a dumbed down version of Thelema so the average bozo feels like he's 'on to something' while practicing it but which is actually being used to control him as well as manipulate him into accepting certain viewpoints he may never have considered before. EG Wicca/Occult is being used to help sexualize children. This is observable in pop music and the media. All of these originate way back to Babylon where they invented mind control itself. Check it out.
All religions promise one thing and one thing only: union with the divine. Unfortunately it will always be just out of reach and that's fully intended.
One give away to all of this is that all those mentioned here work or worked for MI6 or the CIA or both. They created the 60's flower power era too through their front group The Esalen Institute which was co-created by the Huxleys whom were of course personal friends and followers of Mr. Crowley. He first gave them LSD for instance. One more thing. Notice the angel's hand positions. Mirrors Baphomet perfectly.
Last edited: